AdGuard DNS v2.0: A new level of online protection
Today we are releasing AdGuard DNS 2.0. This is a big moment for us, which we have been steadily moving toward since 2016. A lot has happened in this time – and I have so much to tell you. Let's follow the journey that AdGuard DNS has made from a half-baked experimental project to a full-fledged product with more than 50 servers in 15+ locations.
History
It's hard to believe, but on July 26 AdGuard DNS turned 6 years old. It appeared at a time when AdGuard versions for all major platforms had already been released and we were trying to figure out how to protect from ads and trackers devices on which AdGuard could not be installed. That's when we had the idea of creating a DNS service as a way to get to the next level.
AdGuard DNS was born as a completely experimental project that we didn't plan to spend much effort on. The first version of AdGuard DNS was written in Java, using existing developments from AdGuard for Android. It took us only about two or three weeks to do everything from start to finish, post the announcement, and launch the service.
Problems were not long in coming. After all, you can't just take two weeks and make a high-quality service. A task that seemed very simple at first glance turned out to be much, much more difficult in reality. And as the number of users grew, it became clearer that everything we did had to be thrown out and redone.
I'll never forget one night when I was taking the train to my hometown to visit my parents, AdGuard DNS stopped handling the load due to too many users. I frantically tried to fix the situation, but could hardly do anything because of the terrible connection quality. This was probably the longest AdGuard DNS outage ever. But it helped us finally make the decision to completely rewrite the service and take it much more seriously.
AdGuard DNS 1.0
We've changed the technology and the implementation approach. Rewritten in Go, AdGuard DNS gained the ability to handle high load and work with servers geographically dispersed around the world. And, of course, it supported all known DNS protocols with out-of-the-box encryption. This resulted in the official AdGuard DNS release (all the time before that, the service was technically a beta).
The most important "byproduct" of our work during that period was AdGuard Home, a network-level DNS server that blocks ads and trackers and is based on the same technologies as AdGuard DNS. After overcoming all the challenges of setting up AdGuard Home, the user has full control over the network and all of his devices without installing any client applications, and can also manage the filtering process via the web interface.
Interesting fact: by the end of 2019 AdGuard DNS was handling about 27K requests per second, with only a third of them coming from encrypted protocols (DoH, DoT).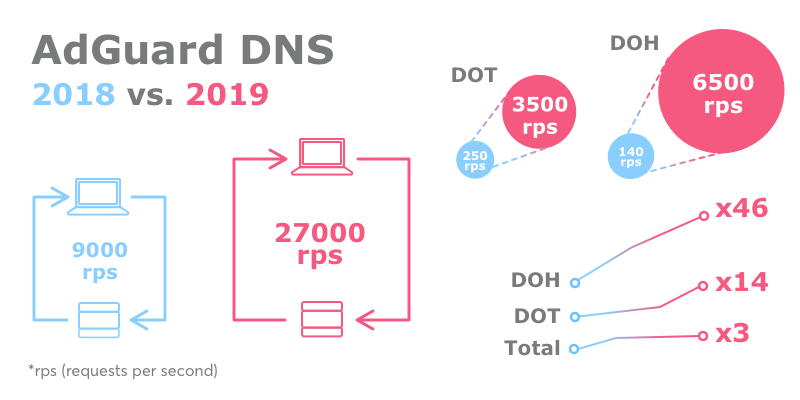 By 2022, the situation had changed dramatically. Today, AdGuard DNS handles about a million requests per second, and over 90% of those requests are encrypted. That's a 37 load increase in two and a half years (actually, the number is even higher, because encrypted protocols are much "heavier" than regular DNS).
On the one hand, this is great! AdGuard DNS has become one of the most popular public DNS resolvers in the world. But on the other hand, such a large-scale service is no longer able to work in the old "experimental" mode. So what did we decide? Of course, to rework the whole thing!
Meet AdGuard DNS 2.0
What did the old version of AdGuard DNS lack? It was an install-and-forget service, in other words, it didn't allow you to manage blocking. That was good enough for some people. But looking at AdGuard Home users, we knew that many wanted to control requests and decide for themselves what and how will be blocked on their devices.
With the release of AdGuard DNS 2.0, all of this is now possible – and available in the Private AdGuard DNS. It combines simplicity of configuration with many useful features that allow you to see and control all requests coming from your devices, customize the blocking to suit you and enjoy the service.
Domain blocking management
Enable the blocklists you need and disable unnecessary ones, block sites via the Query log, add your own DNS filtering rules to User rules (one at a time or as a list) – configure AdGuard DNS 2.0 to block only what you need.
Query log
This is the section where everything unravels! Here you have every request right in front of your eyes: which device sent it, at what time, to what country, and which company the destination server belongs to. Moreover, in the Query Log you can see how AdGuard DNS 2.0 handled the request: blocked, modified or processed.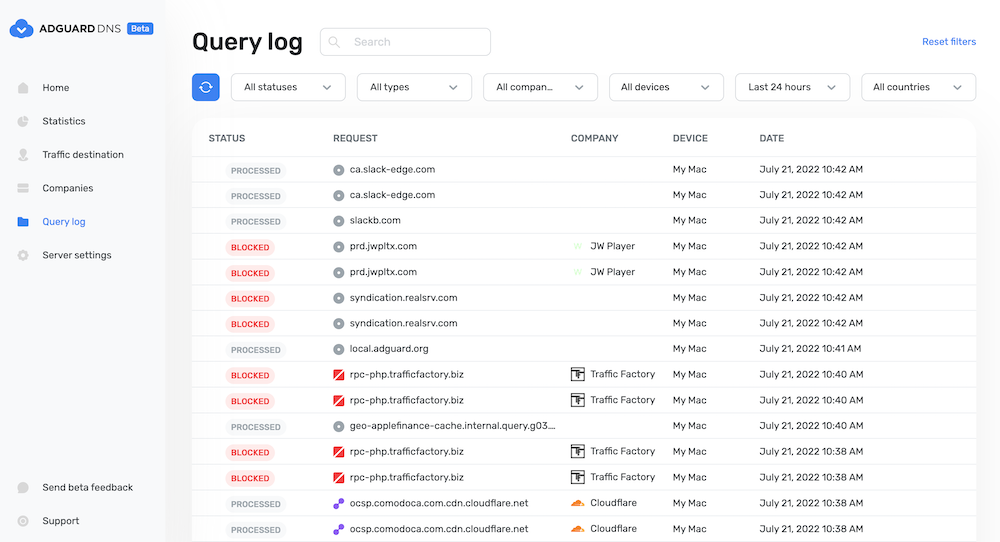 Although it's been said before, we'll say it again: right in the Query Log, you can block domains or override blocking and create your own rules.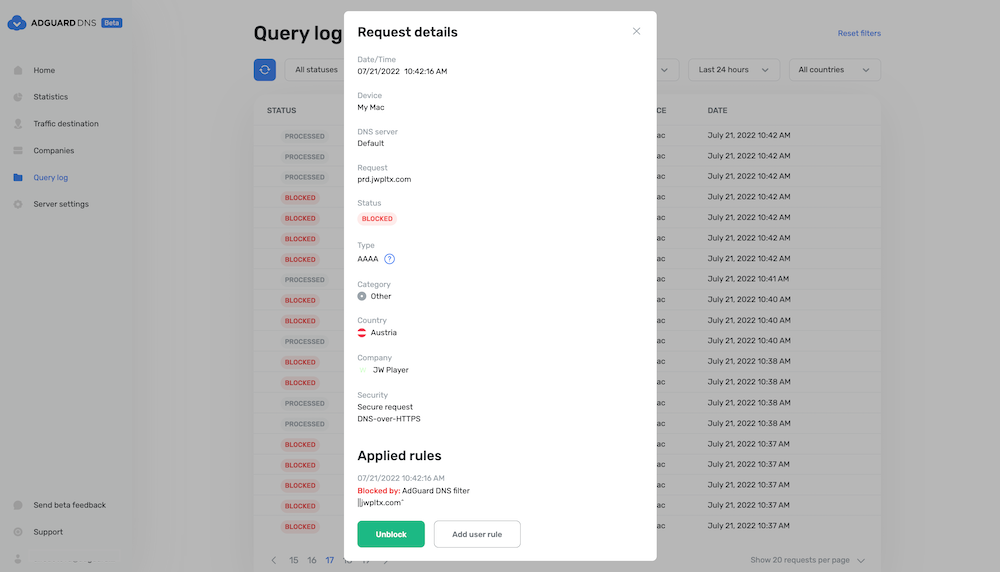 Advanced statistics
The total number and geography of requests, the number of blocked requests, and the list of companies to which requests were addressed – all this you can see both in the summary table and in separate tabs with detailed statistical information.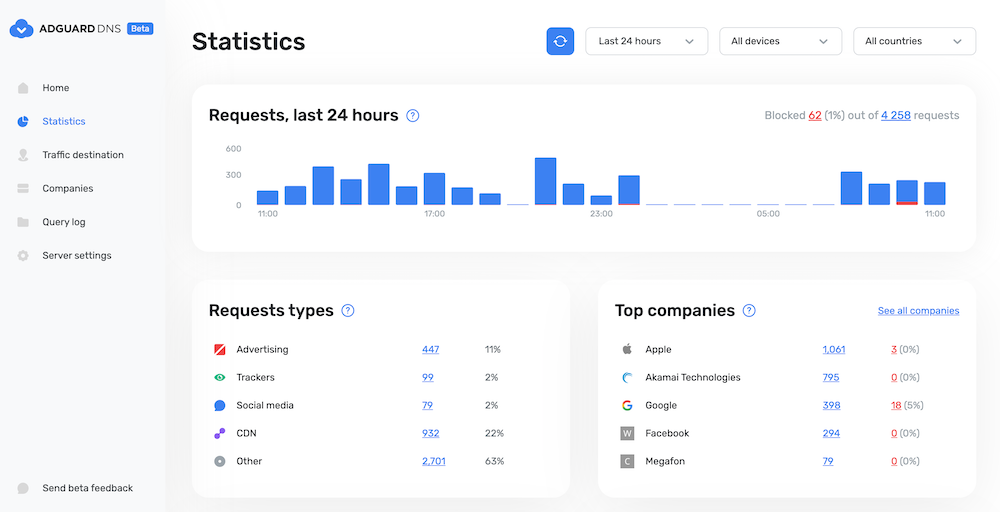 Parental control
To protect your child from online content you deem inappropriate, set up and enable the Parental control option. In addition to features such as Block adult websites and Safe search, we've added the ability to manually specify domains for blocking and set a schedule according to which the Parental control will work.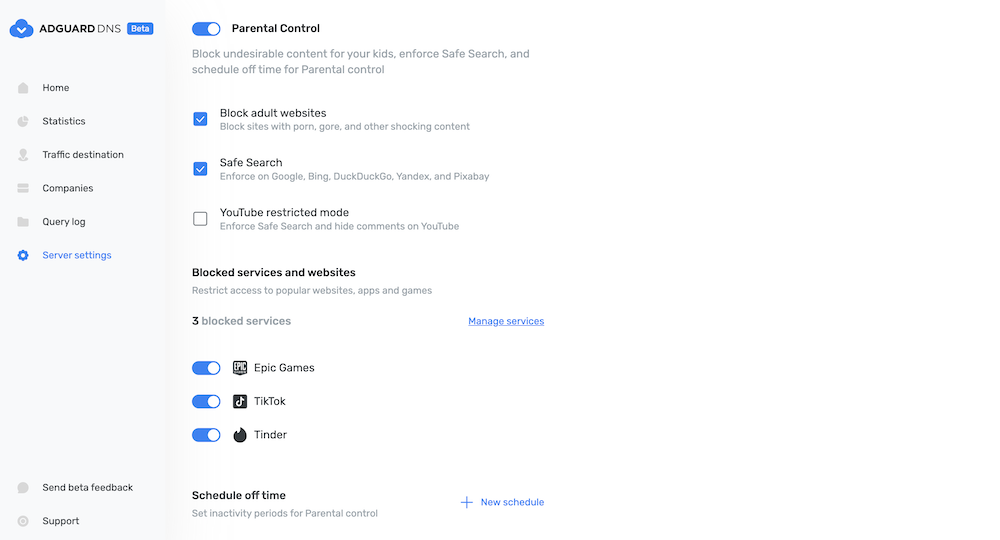 Dark theme
We, like many of you, think the dark theme is an important feature. That's why it's included in AdGuard DNS 2.0, as well as in the vast majority of our other products.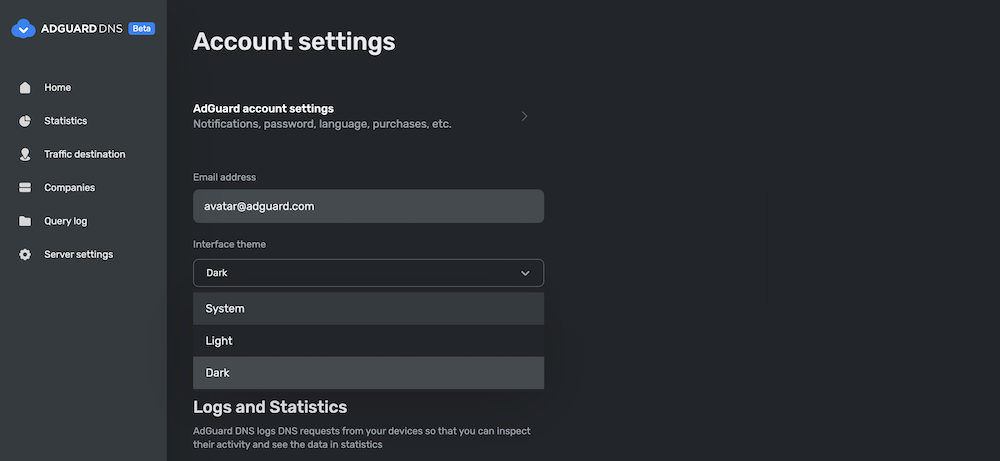 To learn more about the service and its functionality, take a short online tour with Dayane, the mascot of AdGuard DNS.
This is not the end
We have lots of plans for the future which we haven't yet implemented.
A better integration with AdGuard VPN. You can already use AdGuard DNS alongside VPN on Android, Windows and Mac, soon we'll add iOS to that list.
Integration with AdGuard Home is also planned for the future.
We don't want to stop at just DNS. The end goal is to make traditional content blockers redundant (yes, this means making AdGuard redundant as well). This is of course a long shot, but reaching this goal requires more than DNS.
Subscription options
I hasten to reassure you: The public AdGuard DNS isn't going anywhere, you can still use it for free. But if you want all the benefits of the private AdGuard DNS, you need to choose one of four subscriptions:
Starter – a free subscription designed to get you acquainted with the service. Starter subscription does not imply technical support and is limited to 300K requests per month, 5 devices and 2 servers.
Personal – subscription tailored to protect you and your family. You get 10M requests per month, 20 devices and 5 servers, plus technical support. And if you have an AdGuard VPN subscription, you'll get a Personal AdGuard DNS subscription for free.
Team – a subscription that can be advised to owners of small businesses. It includes 100M queries per month, 200 devices, 50 servers and included support.
Enterprise – subscription for large businesses: unlimited requests, devices and servers, plus priority support.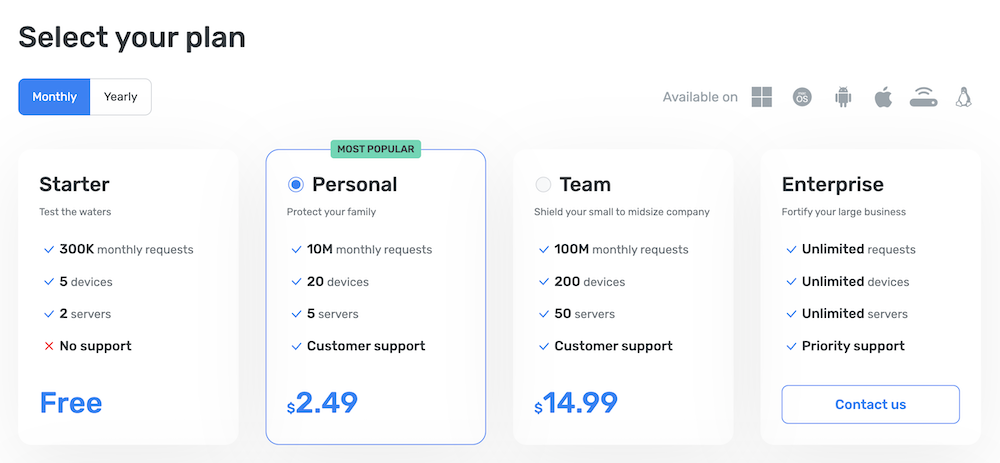 You can choose either monthly or annual charges for any of the above subscriptions.
Conclusion
The release of a new product is always a bit like Oscar night. Not in the sense that someone is bound to get punched in the face, of course. I mean in the sense of handing out thank yous. AdGuard DNS 2.0 became possible not only because of the work of the AdGuard development team, but also because of the beta testers. We say thank you to everyone who used our service in alpha and beta stages, found bugs and reported them. We couldn't have done it without you.
I almost forgot: as promised, we'll be holding a prize draw for those who wanted to know about the launch of AdGuard DNS 2.0 and signed up for the mailing list. At stake are 5 top routers and 10 Personal 1-year subscriptions. Besides, everyone who registers on the AdGuard DNS website before August 22 will automatically get a Starter Plus subscription, valid until October 31.