Versões do AdGuard DNS
2.3
31/08/2023
Nesta versão, estamos introduzindo duas melhorias significativas voltadas para a simplificação do processo de ligação de dispositivos aos seus servidores DNS.
Endereços IPv6 especiais
Para dispositivos não compatíveis com os protocolos DNS criptografados, a ligação aos servidores DNS está muito mais simples! Você não precisa colocar novamente o link ao endereço IP de seu dispositivo sempre que ele for alterado. Basta inserir o endereço IP especial nas configurações do dispositivo e cuidaremos do resto.
Nem todos os dispositivos e provedores são compatíveis com o IPv6. Estamos planejando adicionar IPv4 ao AdGuard DNS Privado em breve.
Instruções para roteadores, TVs e video games
Nesta versão, também pensamos naqueles que utilizam o DNS em dispositivos que exigem definição manual. Agora, ao ligar um novo dispositivo ao dashboard, é possível especificar o roteador, a smart TV ou o modelo do video game e nós te daremos as instruções de acordo com o modelo.
Lista de alterações
Funcionalidade
Adicionadas as instruções sobre como ligar-se ao DNS Privado do AdGuard para routers, consolas de video games e smart TVs
Opção de ligação ao DNS privado através de um endereço IPv6 dedicado a isso
Seletores de filtros optimizados nas seções
Listas de bloqueio
,
Regras de usuário
e
Controle parental
Correções
O filtro "Processado" também mostra as entradas bloqueadas no registro de filtragem
#657
Ligações corrigidas para a configuração do AdGuard DNS público no Android
Status de subscrição vai além do bloco em alguns idiomas
#645
Problema com a autorização para alguns usuários
Os descontos são mostrados incorretamente na conta AdGuard DNS
2.2.1
07/08/2023
Neste update, nós otimizamos a performance do servidor DNS, corrigimos alguns problemas e lançamos um novo serviço de autorização que permitirá o acesso à conta pessoal de forma mais rápida.
Lista de mudanças
Performance
O número de usuários do AdGuard DNS está crescendo muito rápido, e o número total de solicitações por segundo está se aproximando de 2 milhões. Mais de 90% destas solicitações são recebidas a partir de protocolos DNS criptografados (DoT, DoH, DoQ, DNSCrypt). Por isso, neste lançamento, nós focamos na melhoria da performance dos servidores DNS e obtivemos ótimos resultados. Agora, podemos lidar melhor com o número astronômico de solicitações a partir de um servidor mais potente.
Funcionalidade
Idiomas tcheco e eslovaco adicionados
Leitura facilitada dos textos destacados no tema escuro
#617
O endereço DNS completo aparece agora ao configurar um dispositivo em um navegador mobile
#625
Correções
Colunas desalinhadas quando o ponto indicador "Dispositivo não conectado" aparece
#575
Problema de preenchimento automático do código de verificação do AdGuard quando a autenticação em dois fatores está ativada no Safari
#314
Bug no preenchimento automático do endereço de email na página de login do Safari
#319
Funcionamento incorreto do modificador $dnsrewrite
2.2
24/04/2023
O destaque deste lançamento é a possibilidade de personalizar o plano "Equipa": agora, você pode escolher o número de dispositivos, servidores e solicitações mensais antes de adquirir a assinatura. Além disso, nós adicionamos a opção de selecionar um código de resposta para solicitações bloqueadas e, é claro, corrigimos alguns bugs.
Lista de mudanças
Funcionalidades
Possibilidade de personalizar o plano Equipa
Mais informações sobre as atualizações de tráfego mensal adicionadas
#490
Opção de selecionar um código de resposta para solicitações bloqueadas
Blog do AdGuard DNS adicionado
Design do bloco Linked IP atualizado
Traduções atualizadas
#570
Correções
Na versão mobile do Safari, o registro de filtragem é revertido automaticamente para o seu estado padrão após rolagem
2.1.6
01/03/2023
Pequenos bugs devem ser corrigidos antes que eles piorem e acabem afetando a performance do AdGuard DNS. Nós queremos lançar patches no momento certo, e aqui está mais um deles.
Lista de mudanças
Corrigido
Impossível alcançar o botão "Experimentar o AdGuard DNS" no Safari no iOS
#436
As configurações do servidor selecionado são resetadas após a atualização da página
O domínio não é encontrado no campo de pesquisa se foi copiado e colado
#530
Alteração no texto de sugestão de limpeza de logs e estatísticas
#536
Adicionado
Habilidade de personalizar qual resposta será utilizada para um domínio bloqueado
Opção de bloquear o domínio canário do Mozilla
2.1.5
02/02/2023
Neste patch, nós corrigimos vários bugs e, agora, o AdGuard roda melhor.
Lista de mudanças
Corrigido
Picos no gráfico de estatísticas
Gatilho incorreto do limite de dispositivos
O reset das estatísticas não se aplica a todas as seções de filtros
Impossível fazer login via Apple ID se a autenticação em 2 fatores estiver ativada
Os valores de domínios mais bloqueados e com mais solicitações estão misturados na versão mobile
#482
O reset dos filtros nos registros de filtragem não limpam o campo de pesquisa dos domínios
#524
2.1.4
29/12/2022
Este patch é um presentinho para que você comece o ano bem. Nós melhoramos significativamente a performance dos nossos servidores DNS, adicionamos instruções para conectar o AdGuard DNS ao AdGuard VPN e à extensão de navegador AdGuard e corrigimos pequenos bugs.
2.1.3
07/12/2022
Now it's possible to connect an Android or iOS device with AdGuard VPN to AdGuard DNS via email. To do so:
Open the AdGuard DNS dashboard and tap the
Connect new device
button,
Choose Android or iOS and enter your device's name,
Tap
Next
and then
Send link by email
,
Enter the email address you want to send the link to and click
Send
,
​​Open the email on the device you want to connect to AdGuard DNS and tap the
Connect device
button.
For this release we've also expanded the list of used filters, made some UI enhancements, fixed a few bugs, and added Vietnamese localization.
Added
Option to connect AdGuard DNS in the AdGuard VPN app by sending a configuration email
Vietnamese language support
Added filters
1Hosts (mini)
HaGeZi Personal Black & White
HUN: Hufilter
LIT: EasyList Lithuania
No Google
Fixed
AdGuard DNS homepage doesn't load when iCloud+ Private Relay is enabled
2.1.2
22/11/2022
No AdGuard DNS v2.1.2 melhoramos a interface do dashboard, adicionamos um servidor em Joanesburgo e uma opção para desativar as atualizações automáticas de registo de filtragem. Além disso, corrigimos alguns bugs de modo a deixar de ser um problema renomear o dispositivo ou compreender o relatório estatístico.
Se utilizas o AdGuard VPN para Android ou iOS, podes facilmente adicionar um DNS encriptado ao teu dispositivo. Basta seguir as nossas instruções ao adicionar um novo dispositivo.
Adicionado
Opção de desativar o registro automático de filtragem
#264
Servidor de Joanesburgo
Suporte em Turco
Corrigido
2.1.1
25/10/2022
Estes ajustes foram pensados para que pequenos erros sejam reparados e para que duas localizações bónus sejam adicionadas.
Lista de mudanças
[Melhorado] Tradução adicionada para as páginas de login e dashboard em português e português brasileiro
[Corrigido] Hora da última atividade de um dispositivo incorreta
#427
[Corrigido] Status de assinatura VPN incorreto
#352
[Corrigido] Atualizar a página Configurações do dispositivo redireciona às configurações do servidor
#430
2.1
20/10/2022
O AdGuard DNS agora é compatível com DNS-sobre-HTTP/3 no modo experimental. Foi um desafio, mas nós conseguimos. Por enquanto, somente o AdGuard Home e o dnsproxy são 100% compatíveis com DNS-sobre-HTTP/3, mas logo DoH3 estará disponível em outros produtos AdGuard. No entanto, estamos focados no DNS-sobre-QUIC e o consideramos mais avançado, mas queremos desenvolver a compatibilidade com outros protocolos também, e o DoH3 é a prova disso.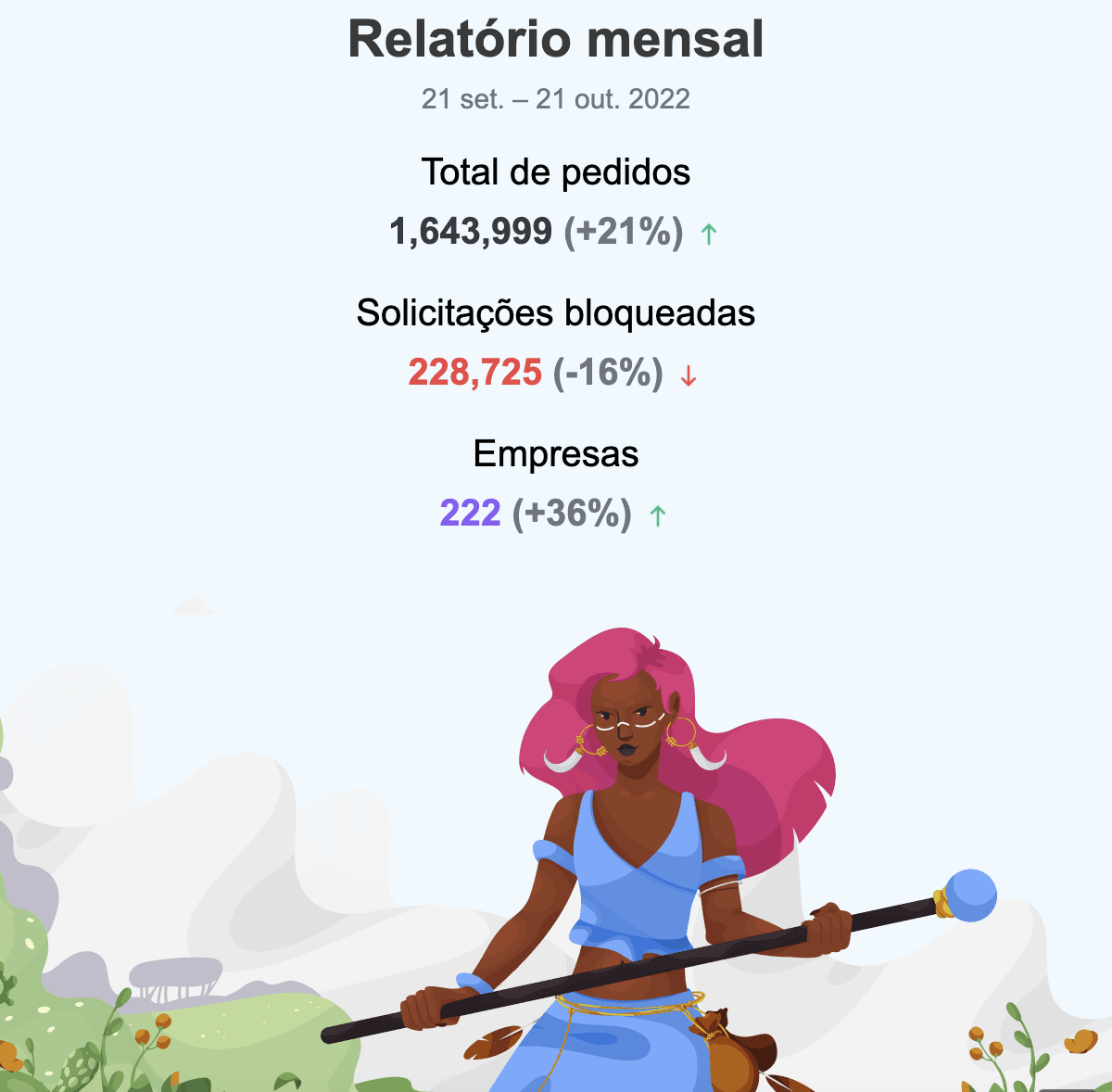 Outra boa notícia é que nós passaremos a enviar boletins semanais e mensais no email dos usuários AdGuard DNS, apresentando estatísticas sobre solicitações, dispositivos e empresas de forma conveniente e visual. Se você achar que está recebendo muitos boletins, você pode cancelar o recebimento quando quiser.
Alterações
[Melhorado] Botão "Aplicar" adicionado após a alteração no nome do servidor
[Corrigido] O botão "atualizar" na página inicial não anula o número de solicitações
[Corrigido] Aviso de limite no plano Enterprise
[Corrigido] Em alguns casos, as estatísticas estavam incorretas
2.0.1
07/09/2022
Já faz duas semanas desde o lançamento do AdGuard DNS 2.0, mas o cheirinho de novidade ainda está no ar. Estamos trabalhando incansavelmente neste produto para oferecer uma ferramenta útil e confiável para controlar o seu tráfego online. E, é claro, nós entregamos o que prometemos.
Mesmo assim, pequenos bugs apareceram após o lançamento. Por isso estamos publicando um pacote de correção hoje: para que você possa aproveitar o serviço ao máximo e para que possamos focar em outros pontos importantes com a consciência limpa.
Lista de alterações
[Melhorado] Inclusão de pesquisa para a Base de Conhecimento AdGuard DNS
[Melhorado] Etiqueta com desconto aplicado ao preço final adicionada
[Melhorado] A página Destino do Tráfego foi optimizada
[Melhorado] Inclusão da opção de utilizar add-cpe-id no Dnsmasq para a identificação do dispositivo
[Corrigido] A desabilitação dos logs desativa também as estatísticas de tarifa
[Corrigido] Numerais em japonês, coreano e chinês são mostrados incorretamente
2.0
18/08/2022
The beta testing phase is finally over! From now on the new level of traffic control is available for you. With AdGuard DNS 2.0 you can:


Flexibly configure domain blocking via blocklists, query log and user rules;

See real-time requests statistics from all connected devices;

Enable and set up Parental control;

Learn more about all the changes and improvements of AdGuard DNS 2.0
in our blog
.
0.6
29/07/2022
Check out the sixth beta version of AdGuard DNS (and hopefully the final one before the release). In it we've improved the dark theme: updated the map styles and QR-code, so that everything could be easily read and scanned. And, of course, we fixed some minor bugs. The private AdGuard DNS now runs smoother!
Changelog
[Enhancement] Updated map styles in the dark theme
[Enhancement] Added an option to disable iCloud Private Relay
[Fixed] QR code is not scanned in the dark theme
[Fixed] Autofill doesn't work in Safari on macOS and iOS
[Fixed] Minor bug fixes in desktop и mobile versions
0.5
13/07/2022
There are five fingers in a hand, five oceans on Earth, and five betas of the private AdGuard DNS. Today we're releasing the fifth beta of our DNS and we hope you'll rate it 5/5!
In this version we've implemented support for DDR (Discovery of Designated Resolvers) by
the latest draft of the new standard
. With this feature, an encrypted connection to the DNS server will be set up automatically on devices with DDR support, provided the device previously knew the server address. A computer or smartphone will send a request to the known address and receive all the necessary information to establish a secure connection.
DDR support appeared in
Windows 11 Insider Preview Build 22489
, which means that the feature will get into the release version after a while. When this happens, Windows and AdGuard DNS users will be automatically reconnected to encrypted DNS servers – public or private, depending on the services selected earlier.
We've also improved ECS (EDNS Client Subnet) implemented in the
third beta
. Servers now respond with more precise IP addresses that better match your location. Furthermore, we are continuing to refine the open AdGuard DNS API, and now there are methods for getting statistics. All documentation is available at
Knowledge Base
.
We've fixed some bugs and worked on the interface: authorization via Apple ID now works properly, the dark theme has become really dark, and the Query log is prettier than ever. French, Italian, Chinese, Japanese, and Korean were added to the dashboard, and we are committed to continue localizing the private AdGuard DNS, making it accessible to users from all over the world!
Changelog
[Enhancement] Added support for DDR (Discovery of Designated Resolvers)
[Enhancement] Statistic retrieval methods were added to the API
[Enhancement] Added an option to change subscription type
[Enhancement] Added an option to extend subscription
[Enhancement] Added support for Chinese, Japanese, Korean, French, and Italian
[Enhancement] Added the "Don't ask again" checkbox to the system notification that appears when deleting user rules
[Fixed] After logging in via Apple ID the personal account opens instead of dashboard if the user has an AdGuard VPN subscription
[Fixed] In dark theme statistics blocks are highlighted in white
[Fixed] In dark theme text in some fields is grayed out
[Fixed] Some elements in the mobile version of the website are displayed incorrectly
0.4
21/06/2022
The period of active "building" of the private AdGuard DNS is left behind, and now we're polishing the service to a shine. Just take a look at the current changelog and compare it to the one we published for the previous beta. The difference is obvious.
The fourth beta features dark theme and language selection – at the moment, the dashboard is translated into German, Spanish, and Russian. To find both options, go to Account settings. And some more good news: from now on all AdGuard VPN users with a subscription will get the Personal plan of the private AdGuard DNS for free.
We hope you'll enjoy the new version. Use the service and leave feedback on any platform you like.
Changelog
[Enhancement] Added dark theme
[Enhancement] Added support for VPN subscriptions and information about VPN subscribers automatically getting a Personal DNS subscription
[Enhancement] Added German and Spanish localizations
[Enhancement] Improved search function in the filter section on mobile devices
[Enhancement] Supplemented instructions for different devices
[Enhancement] Added a link to DNS rules syntax in the query log dialog
[Fixed] The "View device settings" button doesn't work on iOS devices
[Fixed] The "Unable to renew subscription" popup hangs for too long
0.3.1
10/06/2022
The recently released third beta of private AdGuard DNS was really good and brought a lot of useful features to users. However, as it turned out, it contained a few flaws. So that you don't have to deal with them anymore, we are releasing a patch v0.3.1 for private AdGuard DNS.
Changelog
[Fixed] Clicking the Block button in Query log deletes all existing user rules and replaces them with a new one
#265
[Fixed] Unable to move devices between servers
#248
[Fixed] Incorrect links on the "Thanks for your purchase" page
[Fixed] Discount promo codes do not work correctly
[Fixed] There is no payment button in the mobile version of the website
[Fixed] Incorrect designation of the number of requests in Statistics
0.3
26/05/2022
Meet the third beta version of private AdGuard DNS! We are steadily moving towards a full-fledged product, adding new features, changing and improving UI — everything to make you really enjoy using AdGuard DNS.
The version history – in front of your eyes
First and foremost, we've added a version history page for the AdGuard DNS service. Now you can see the full list of changes, learn about new features, and see how the work on private AdGuard DNS service is progressing.
Contribute to AdGuard DNS translation
Until now, private AdGuard DNS could only be used in English: first we had to make sure everything was working as it should. With this version we've extended the geography by adding the possibility to translate the dashboard into different languages. Help us make AdGuard DNS more accessible to everyone by participating in the translations! You can find a detailed article on how to use the Crowdin platform in our
Knowledge Base
. And if you already know how to use it, visit the
AdGuard DNS project in Crowdin
. Select the Dashboard and choose the language you want, then you're ready to translate!
AdGuard DNS Knowledge Base
Subscription
We've added a paid subscription on private AdGuard DNS. Subscription is not required during beta testing, but we'd appreciate it if you'd like to support us now.
DNS filters
We've also fixed DNS filters: eliminated the bug with the
/etc/hosts-style
rules failing to work and added support for rules with
$dnsrewrite
. By the way, you can read about the
DNS filtering syntax
in the Knowledge Base.
ECS support
The AdGuard DNS servers now support EDNS Client Subnet (ECS).
This feature allows users to get responses corrected for the location of the DNS user. We had long been hesitating to implement it in AdGuard DNS: ECS assumes handing over an anonymized user's IP address to the name server. In this version, we've solved the problem: instead of the user's IP address, we pass another address from
approximately
the same location as the user's.
New blocklists
We've added a lot of new blocklists — now it's even easier to customize AdGuard DNS. And if that's not enough, you can request and add more blocklists in the
GitHub repository
(before you do that, read requirements for blocklists in the section
"What Blocklists Can Be Added Here"
).
Open API
AdGuard DNS now has an open API. If you want to integrate with AdGuard DNS, read the
documentation
.
UI fixes and more
We've also fixed a lot of minor bugs and added some useful features.
Test private AdGuard DNS and leave feedback on any convenient platforms — it will help us become better.
Changelog
[Enhancement] Improved the appearance of the multiselect (element with the ability to select multiple values, such as countries, devices)
[Enhancement] For the device location, the Traffic Destination section uses data from its last activity
[Fixed] Incorrect detection for account time zone
[Fixed] Statistics and logs do not get cleared when their retention period is changed
[Fixed] Incorrect country detection for some domains
[Fixed] Significant delay in clearing logs and statistics
[Other] Added the option "Last 7 days" to date selector
0.2
16/03/2022
We've all been waiting for it: we're proud to present the open beta of private AdGuard DNS! From now on, anyone can set up their own DNS server.
We took the best of AdGuard DNS and AdGuard Home and designed a product that would be flexible and customizable, meet the needs of "geeks", and have a user-friendly interface. We hope we succeeded! And now let's take a closer look at the best features of private AdGuard DNS.
Block/unblock domains
With a private DNS server, it is only you who decides which domains should be blocked and which shouldn't — on each device! Connect your computer, smartphone, tablet or router and manage their requests as desired.
Blocklists management
You can also choose which domain blocking rules should be implemented. And those who aren't satisfied with dozens of pre-installed blocklists can import and export their own custom rules.
Advanced statistics
Now you can see the full statistics of your requests: how many requests were registered, to which companies, and to which countries. Besides, you can view this information for different dates, countries, and even for different devices connected to your DNS server. And of course, block and unblock requests on the go.
Parental control
To protect your child from online content you deem inappropriate, you can use Parental control. You can activate the safe search and manually specify domains for blocking as well as set the schedule: for instance, not allow your child to watch videos during homework.
Join beta testing
To take part in beta testing go to AdGuard DNS website and press *Join beta***, then sign up or log into your AdGuard account. You're done! Create your own DNS server and manage your requests — you are in control.
0.1
28/09/2021
Great news: AdGuard DNS is advancing to a new level. We're about to release the product that many have yearned for so long — the private AdGuard DNS!
What a public DNS server blocks cannot be changed — it only has to be taken for granted. With your own DNS server, you'll be in control of all the query statistics and be able to choose which domains you want to block. It'll allow you to add blocklists and set up Parental control. And the user-friendly interface will make it no problem to get to grips with it all.
We added
a new website
where you can already see what the private AdGuard DNS interface will look like, learn how to connect to the public DNS server, and subscribe to the AdGuard DNS newsletter. If you do, we'll message you at launch and keep you up-to-date with the latest AdGuard news.
Thank you for your support! Stay tuned — and in the meantime, we're working to make sure the next release is to your liking.